The power of storytelling: Understanding social norms change in Nepal
What is in a story? People have always told stories. Can they be used as part of a research process to understand shifts in our societies?
In 2022, Gender at Work partnered with The Story Kitchen (TSK) to undertake research as part of Hamro Sahakarya (Our Collective Action), an initiative by UN Women Nepal funded by the Government of Finland to promote social norms change. Using storytelling as an entry point to inform research, programming and action, the five-year initiative aims to understand pathways and factors that lead to changes in social norms, which in turn can influence transformative shifts towards gender equality and social inclusion.
For the baseline assessment, Gender at Work and TSK worked with community-based peer researchers to gather 1,000 stories from storytellers of all ages and from varied socioeconomic and ethnic backgrounds in five districts of Nepal.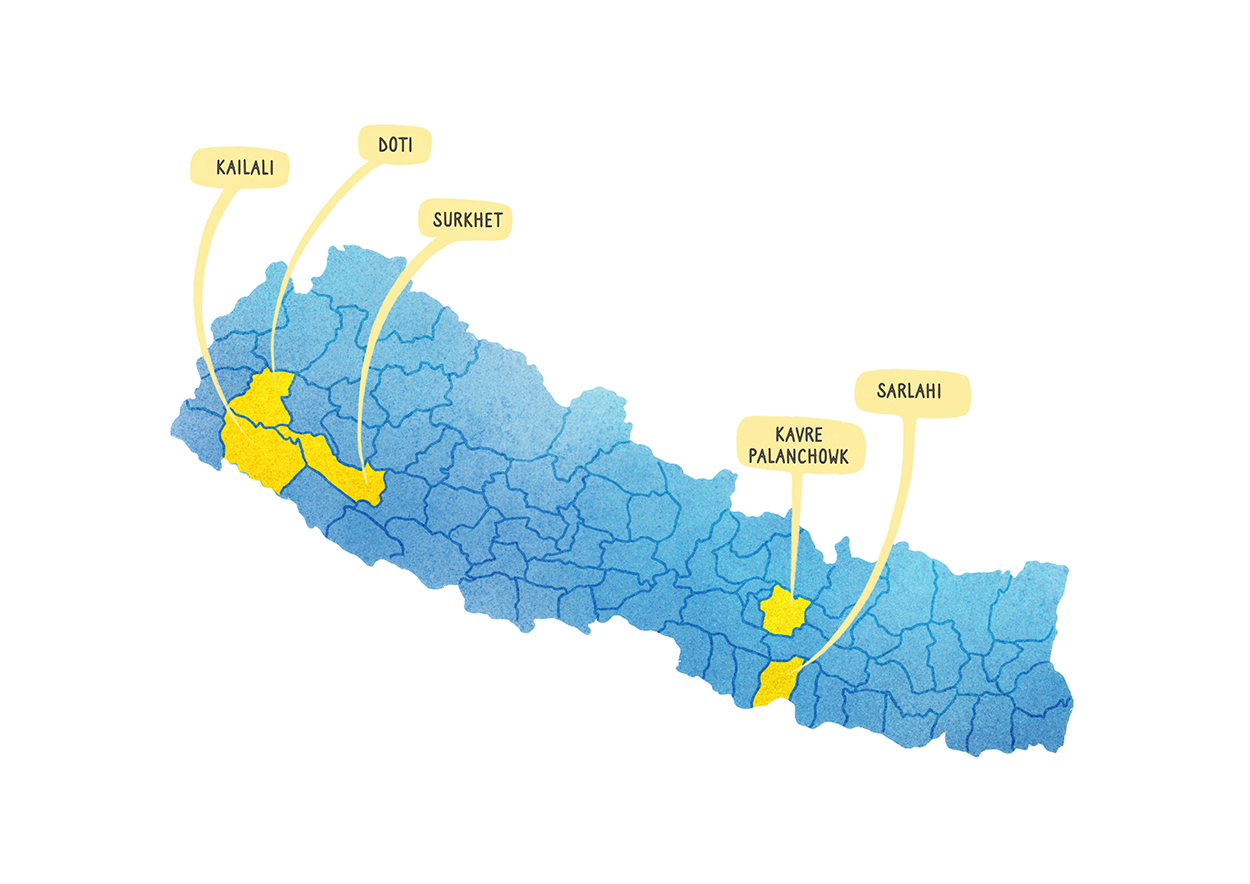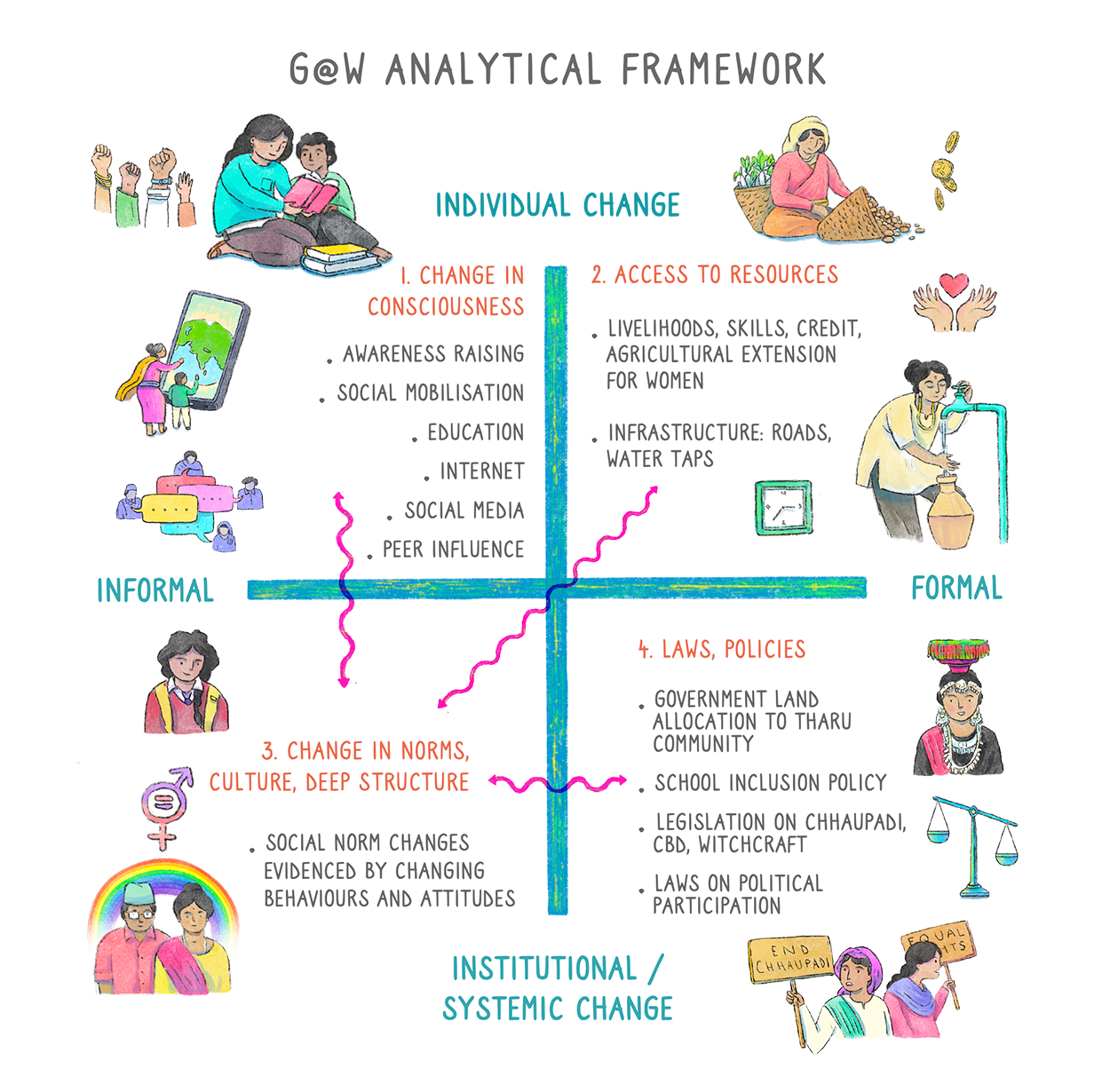 A story-telling project in Nepal incubated a feminist, participatory research process, where women, girls and other community members were enabled, as part of a research process, to tell their own stories of social norms related change, their empowerment journey, as they experience it and witness it.
In Nepal, women and girls face multiple hardships: caste-based discrimination, restrictions during menstruation (chhaupadi), child marriage, dowry and related violence and witch-craft accusations and persecutions. The Covid-19 pandemic created the conditions in which many of these harmful practices could thrive even more, leaving a devastating impact on the lives of women and girls.
The stories revealed that harmful norms continue to exist but there are signs of change. The stories and analysis demonstrated that for transformative change to become a reality, change is required in multiple domains, as understood through the Gender at Work Framework.
To read more about the stories, what they tell us and how they contribute to changing social norms, click the button below.
The research methodology for the baseline integrated mass storytelling into its process, drawing on Nepal's long tradition of storytelling. Using participatory and feminist principles, this research process tested a research tool and an analytical approach that placed women and girls at the centre of the storytelling and signification process, understanding current harmful norms and change narratives through their lived experiences.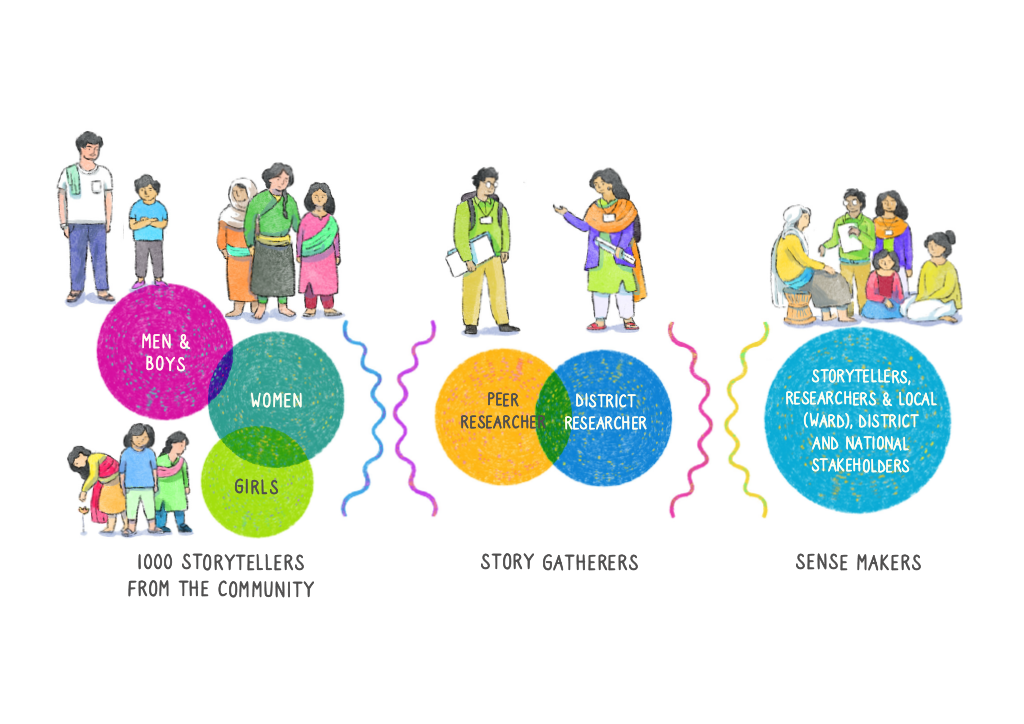 The storytelling and story-writing method used in this research is guided by narrative therapy principles that centre people as meaning makers and experts of their own lives.
Curious to know more about how we combined old traditions with new tools? 
To read more about the research process and the journey of the researchers and the story tellers click, the button below!
Twenty five peer and district researchers collected 1,000 stories working in five teams of five people. The researchers were primarily female peer researchers selected from local community-based organizations. Storytellers confided to researchers that the act of sharing their stories had in itself been empowering, giving them a sense of self-validation. The process also led to some interesting learning that can inform other research on social norms.
Watch the stories of Kali BK, Jayanti Sewa, Ritu Kadar, Sakuntal Chaudhary and Sarita Sob, the peer-researchers, to learn about how storytelling changed their perspectives and how their experiences can inform other research on social norms.
Want to read the stories that the women and girls shared? Click on the images below to explore the worlds of the storytellers. 
The comics, illustrated by Ubahang Nembang, combine a traditional Nepali art style with digital tools.  As with the research, story-telling forms an integral part of Ubahang's (the artist) illustration journey as well.
To continue engaging with our research, the story-tellers and the social norms they are contributing to, discover our latest report.